Hawley Rodeo celebrates 60 years in northern Minnesota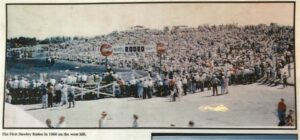 Trick Riding is coming to the Hawley Rodeo, June 7-8
Dusta Lee Kimzey thrills audiences with gymnastics on horseback
Rodeo Clown Scot Allerding, featured at 60th Hawley Rodeo
Omaha, Neb. (April 20, 2019) – This rodeo season Barnes PRCA Rodeo continues to hire the very best specialty acts for the 60th American Heroes PRCA Rodeo in Hawley, Minn. Those acts feature Tricked Out Trick Riding by Dusta Lee Kimzey and Rodeo Clown Scot Allerdings.
Dusta Kimzey from Strong City, Okla. will perform under Tricked Out Trick Riding doing death defying gymnastics on horseback while racing at full speed around the rodeo arena.
Accompanying Kimzey are her trick riding horses and her sidekick Lickety Split. Lickety Split is a miniature horse that notability performs his own stunts separate from the trick riding.
Long time rodeo fans recognize the Kimzey surname as her father Ted Kimzey worked as a barrel man for many years. Her younger brother Sage Kimzey is the reigning 5x PRCA World Champion Bull Rider and her youngest brother Trey is competing in the Professional Rodeo Cowboy Association too.
Scot Allerdings from Wyoming really is a class clown, teaching high school PE.
During his performances, Scot provides several means of high quality family entertainment. From his family friendly comedy to new exciting acts, Scot will keep the crowd entertained throughout the event. Scot loves to work with the youth and will do whatever he can to help promote the sport of rodeo, in a positive fashion.
Barnes PRCA Rodeo rigs will roll into Hawley, Minn. carrying top notch bucking horses and bulls for two rodeo performances Friday June 7 and Saturday June 8. Performances start at 7 p.m. with tickets at the gate $15 adult and $7 children. Military and veterans with ID tickets are just $10 for adults and $5 for their children. To purchase online tickets visit www.hawleyrodeo.com.
###
About Barnes PRCA Rodeo: Established in 1950, Barnes PRCA Rodeo from Peterson, Iowa continues to be a premier livestock contracting company and member of the Professional Rodeo Cowboy Association. Marty Barnes, the eldest son of the late Bob and Donita Barnes, manages all aspects of the livestock, rodeo production and breeding program. www.BarnesPRCARodeo.com
The Rafter B Bar brand is synonymous with Barnes PRCA Rodeo and quality rodeo productions. The athletic talent of the bucking horses, bulls and saddle horses are award winning. Notably their bull Tallahassee Red was selected the Top Bull of the RAM National Circuit Finals in 2019. The mare CAT Power was selected nine consecutive times from 2005-2013 to the WNFR. In 1977 Crystal Springs was named the PRCA Saddle Bronc Horse of the Year. The foundation sire Boy Ballou continues to influence the breeding program today. He made five trips to the National Finals Rodeo.
Today the second and third generations of Barnes family handle the day-to-day operations on the ranch and provide for the health and welfare of 165 bucking horses and 70 bulls. The longevity of Barnes PRCA Rodeo is captured in the marketplace across the Midwest where community celebrations dating back 40, 50 and 65 years are continuous partners.
Sixty-nine years ago, Barnes PRCA Rodeo was founded with the guiding principles of integrity and hard work. Bob Barnes was known as "the Colonel"," and today is still one of the most respected stockman in professional rodeo. He was selected as the 1984 PRCA Stock Contractor of the Year and inducted into the ProRodeo Hall of Fame in 1994. Donita Barnes was posthumously awarded the inaugural PRCA Lifetime Achievement Award for contract personnel at the PRCA award banquet in 2011. The PRCA Lifetime Achievement Award was renamed in her honor in 2012.