Rodeo & Rhinestones debuts June 21-25, 2022 in Buffalo, MN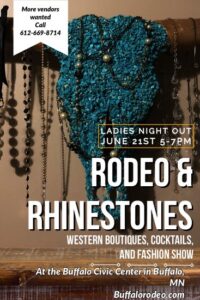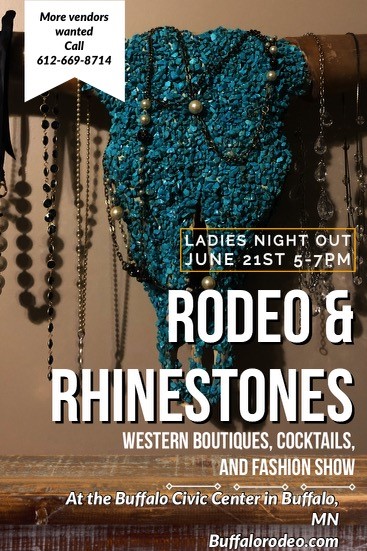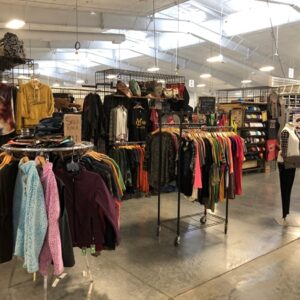 Seeking participants and vendors now through April 30, 2022.
The vision is for the indoor Buffalo Civic Center (adjacent to the Buffalo Rodeo Grounds) to become destination shopping as a rodeo marketplace from Tuesday June 21 – Saturday June 25, 2022 in Buffalo, Minnesota.  We are seeking retail vendors, chic boutique participants, western tradeshow booths, leather goods, home furnishing and accessories booths to be part of this inaugural tradeshow.  The event is being coordinated by KMG. If participation numbers are obtainable, we will showcase opening night with a Rodeo & Rhinestones Ladies Night Out.
What: Western Marketplace for our rodeo fans, the community and tourists to have a destination shopping experience while attending the 68th Buffalo PRCA Championship Rodeo. 
When: Tuesday June 21 – Saturday June 25 from daily. Move in Monday June 20th
Why: Enhance the fan experience for the 68th Buffalo PRCA Championship Rodeo starting with Rodeo & Rhinestones Ladies Night Out on Tuesday June 21st.  The evening from 5-7 p.m. will be a preview, runway fashion show, rodeo queen appearances, cocktails, chocolates and music. The Western Marketplace will be open daily.  Rodeo performances are nightly at 7 p.m.
Cost: starting at $50 10×10 space with early bird pricing.  To apply/register 2022 Rodeo & Rhinestones Registration Page (rodeoticket.com)
To Apply: [email protected]
About Us: KMG's past agency work includes the Western Montana Fair, Missoula Stampede Rodeo, Buffalo Rodeo, Barnes PRCA Rodeo events, Hawley Rodeo and many more.  KMG's work includes 15 national awards within the fair and festival industry (IAFE).  KMG created and produced the West Lawn Market with Celebrity Chef Competitions, Bridge Over Time Fashion Shows, plus local rodeo queen pageants.
KMG is led by Gretchen Kirchmann. Her career includes working for Las Vegas Events on the Cowboy Fanfest in 2012- 2014 and being the Director of Public Relations for the inaugural 2014 RFDTV The American in Arlington, Texas. Her vision created the Purple Ribbon Gala and designing the AK Marketplace in Nebraska from 2018-2020.
Below are past event photographs with western boutique vendors.