Duces Wild for Tanner Aus in Bareback Riding, Las Vegas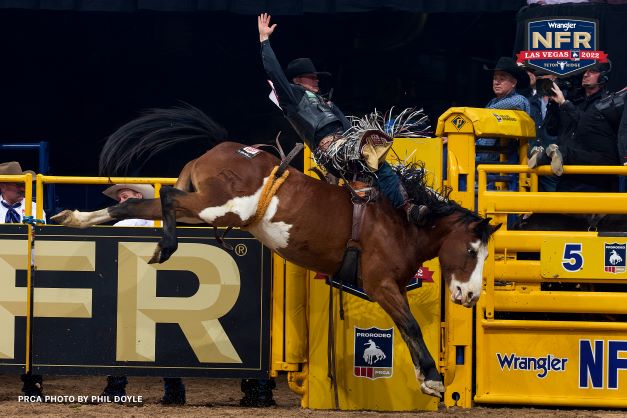 Cowboys compete for $10 million dollar jackpot in Las Vegas Dec. 1-10
Duces Wild for Tanner Aus in Bareback Riding, Las Vegas                                                  
LAS VEGAS, Nevada (December 2, 2022) –   Three Minnesota cowboys are looking to cash in while competing in Las Vegas during the Wrangler National Finals Rodeo.  The WNFR is ProRodeo's "Super Bowl" paying out $10.9 million dollars. It is the richest, most prestigious rodeo in the world and boasts a sold-out attendance for more than 30 years.  Nearly 170,000 fans will pack the Thomas & Mack arena over the ten-day run from December 1-10.
Tanner Aus from Granite Falls enters his seventh WNFR in the bareback riding.  JD Struxness from Milan is competing in steer wrestling for the fourth time and Reid Oftedahl from Raymond makes his debut in bull riding.  All three contestants are former Minnesota High School Rodeo state champions.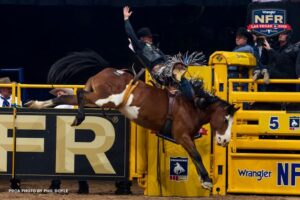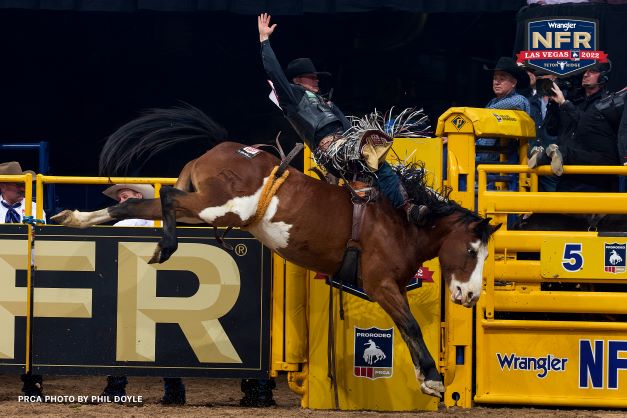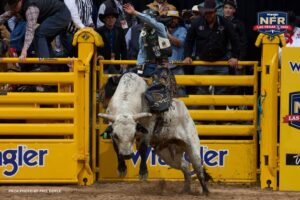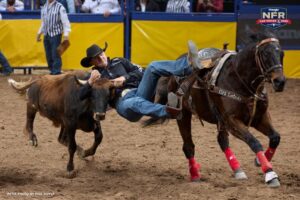 Viva Aus Vegas could be heard loud and clear from the Aus family cheering section in round 2. Duces were wild for Aus.  He placed second during the second performance on the second night of the WNFR in 2022.
On Tuesday Dec. 2,  Aus won $20,053.05 for splitting 2/3 place with Tilden Hooper from Carthage, Texas.  He rode Topped Off of the Pickett Pro Rodeo Company for 85.5 points.  Leighton Berry from Weatherford, Texas won the round 2 with 86.5 points and cashed in on $28,913.70.  Aus is currently sitting seventh for the world championship race.  His total earnings for 2022 are $157,185.10.  Leading the world is Jess Pope from Kansas with $204,325.29.  The past two years Pope has won the average at the WNFR.
Struxness enters the 2022 WNFR in third place for steer wrestlers with $123,648.61. This year marks his fourth qualification for the WNFR (2016-17, 2019 and 2022). He is currently sitting fourth in the world standings.
Oftedahl won the bull riding championship at the 2022 Buffalo PRCA Championship Rodeo in Buffalo, Minn. In 2013 Oftedahl won the American Heroes PRCA Rodeo in Hawley, Minn. and filled his permit. He took a break from fulltime competition until this year. He enters the WNFR in 15th position with $107,943.89 won in the regular season.
###
Photographs of Round 1 courtesy of ProRodeo
Other Minnesota past qualifiers for the WNFR include: Saddle Bronc Riders Tyler Corrington (2014, 2013, 2011) and Todd Hipsag (1997, 1998 and 2001); Bull Riding Brett Stall (2012, 2015), brothers Charlie (1981) and Paul Wiederholt (1993). Barrel Racer Jane Melby in 2011 and 2013.
About Buffalo PRCA Championship Rodeo:  Come experience Minnesota's oldest ProRodeo June 22-24, 2023. Since 1955, the Buffalo PRCA Championship Rodeo continues to provide quality family-friendly entertainment at an affordable price.  For more information www.buffalorodeo.com
About Barnes PRCA Rodeo: Established in 1950 Barnes PRCA Rodeo from Peterson, Iowa continues to be a premier livestock contracting company and member of the Professional Rodeo Cowboy Association.  The longevity of Barnes PRCA Rodeo is captured in the marketplace where community celebrations have been continuous partners dating back 40, 50 and 60 years. For more information visit www.barnesprcarodeo.com