World Bareback title comes home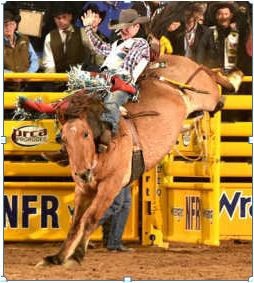 World Bareback title comes home
Wednesday, December 21, 2016
Tim O'Connell from Zwingle, Iowa was all smiles as he entered the Wrangler NFR media room on Saturday December 10, 2016 following his 10th round performance in Las Vegas.
O'Connell was still wearing his chaps as he was ushered in for a round of interviews after his bareback ride. Holding his Wrangler NFR average buckle still in the Montana Silversmith box he focused on the questions and expressed his gratitude to all those who have helped him along the way to claim his first PRCA world championship.
"It's been a whirlwind week. I got on some great horses this week. I feel very blessed in my riding all week and to be the new world champion," O'Connell acknowledged.
When asked – what this means for Iowa he continued, "Everyone doesn't think there are cowboys in Iowa. I just won my first world title. We are gritty up there and very thankful for all the people in Iowa that support us. There is a lot of young talent coming up. I'm thankful to be from Iowa, I'm humbled to be from Iowa and proud to be from Iowa."
O'Connell won both the 2016 World Bareback Championship and Wrangler NFR Bareback average title adding to his rodeo resume. He was the PRCA/Resistol Bareback Riding Rookie of the Year, 2013 and PRCA Bareback Riding Permit Holder of the Year, 2012. His amateur career includes qualifying for the College National Finals Rodeo in 2011—12 and being the 2010 Wisconsin High School Rodeo Bull Riding State Champion.
The alumnus of Iowa Central Community College said, "I would like to thank Coach Lambright and Coach Coleman for believing in my bareback riding career at a very early stage," he continued by acknowledging the Barnes family. "I couldn't be here without them and starting my career off right (Barnes practice pen). Thank you Marty Barnes."
The Barnes Ranch near Cherokee holds weekly rough stock practices for the Iowa Central Community College team.
When asked what he'll do with winning nearly $200,000 in Las Vegas O'Connell had an answer. "My wife and I are going to Cabo next week. We are going to enjoy it and stop thinking rodeo and take time for us."
According to the PRCA, Bareback rider Tim O'Connell ($374,272) set a PRCA record for most money won in any event in any year, eclipsing the mark of $327,178 established by bull rider Sage Kimzey last year. The single-season record for most money won in bareback riding before 2016 was $319,986 by Kaycee Feild in 2011.
Regional contestant's winning big in Las Vegas included Tanner Aus from Granite Falls, Minn. He starting off with winning the first go round buckle and finished by adding a second buckle in the ninth go round. Aus finished fifth overall in the Bareback World Standings with $213,152. He won nearly half his yearly earnings ($100,000) during the Wrangler National Finals Rodeo riding nine out of 10 head. Aus is another decorated Iowa Central Community College alum.
Steer Wrestler J.D. Struxness from Appleton, Minn. won $128,673.08 in Las Vegas claiming three go-round wins and splitting a fourth for his rookie Wrangler NFR. He finished the year in fourth place with $213,108.
Go Rounds in Review:
*Round 1
Tanner Aus won first with an 85.50 point ride for a payout of $26,230.77; Tim O'Connell placed third with 83 for $15,653.85. J.D. Struxness split 5/6 with 4.60 seconds for $5,500 on opening night.
Round 2
O'Connell split 1/2 with an 85 point ride for a payout of $23,480.77. Aus finished out of the money and Struxness received a no time.
Round 3
Aus split 1/2 with an 88 point ride for a payout of $23,480.77. O'Connell split 4/5 for $8,884.61. Struxness split 1/2 with 3.90 cashing in on $23,480.77.
Round 4
O'Connell split 2/3 with an 87 ride for $18,192.31. Aus bucked off and Struxness won the round with a 3.80 run, claiming $26,230.77.
Round 5
O'Connell split 4/5 place with 86 points for $8,884.61. Aus had a three-way division for sixth place capturing $1,410.25. Struxness won his second solo round with 3.50 and the full check for $26,230.77.
Round 6
All 15 bareback riders rode; however, O'Connell's 82 points didn't land him at the pay window. Aus placed fourth with 84.50 points and won $11,000. Struxness had a no time once again between his go round wins in 2, 3, and 4.
Red Horse Crossin' from Barnes PRCA Rodeo bucked off Cody DeMoss. This is the second consecutive year DeMoss has drew Red Horse Crossin' at the Wrangler NFR. Twice she's claimed victory.
Round 7
O'Connell placed second with 83.50 points for $20,730.77 and Aux finished outside the money. Struxness broke the barrier on his 3.9 run making it 13.90.
Round 8
O'Connell split 3/4 with 85 points for $13,326.92. Aus tied in 6th place with 84 points for $2,115.38. Struxness finished outside the money with an 8.2 run.
Round 9
Aus won the round with 88.50 points for $26,230.77, capturing his second gold go round buckle. O'Connell finished outside the money with 82 points. Struxness finished fourth with a 4.50 second run worth $11,000
Round 10
O'Connell split 4/5 with an 85 point ride worth $8,884.61 to claim the average title and his first world championship. Aus finished outside the money with 83 points. Minnesota Proud – Struxness won the final go round with a 3.9 run to claim his third solo gold buckle and a paycheck of $26,230.77.