Westin Barnes, third generation stock contractor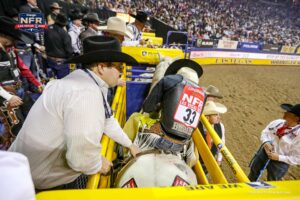 LAS VEGAS, Nev. (Dec. 3, 2022) –  The signature yellow bucking chutes at the Wrangler National Finals Rodeo in Las Vegas are iconic.  The Rafter B Bar brand represented in Las Vegas with the third generation Westin and Katelyn Barnes and second-generation Marty Barnes.
Westin Barnes flanked his ranch raised horse, 5H2, at the Wrangler National Finals Rodeo on Dec. 3, 2022 in the third round for bareback rider R.C. Landingham.  The 85-point ride paid the cowboy $17,255 for third place in the round.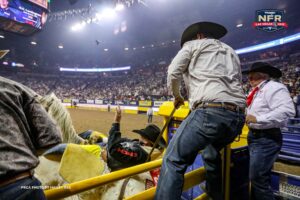 Westin's wife Katelyn explained the experience well with gratitude.  She said, "I think honestly we work so hard every day for this, not just driving hours to rodeos but the everyday grind, he loves this family business his Grandpa and Grandma Barnes built."
"When you love these animals, worry about them like they are part of the family, all of the work that goes into it, is worth it, the NFR is our reward," she continued.
The WNFR selected mare, 5H2 Backdoor Johnny, competed in the eliminator pen alongside former Barnes bronc, 6M0 Deep Springs.  Both horses were ranch raised and bred.  Deep Springs was the highest selling bareback horse at the 2018 Benny Binion Bucking Horse Sale.  The full brother and sister were both sired by 312 Ponca Stomp, out of X1 Boy Ballou and 301 Ponca Crossin'.  The history of Barnes bringing stock to the WNFR goes all the way back to the first one in 1959.
The WNFR is ProRodeo's "Super Bowl" paid out $10.9 million dollars. It is the richest, most prestigious rodeo in the world and boasts a sold-out attendance for more than 30 years.
Photos courtesy of PRCA.
###
About Barnes PRCA Rodeo: Established in 1950 Barnes PRCA Rodeo from Peterson, Iowa continues to be a premier livestock contracting company and member of the Professional Rodeo Cowboy Association.  The longevity of Barnes PRCA Rodeo is captured in the marketplace where community celebrations have been continuous partners dating back 40, 50 and 60 years. For more information visit www.barnesprcarodeo.com