Utah's Bar T Rodeo Company at the NFR since 1959 – Round 6 WNFR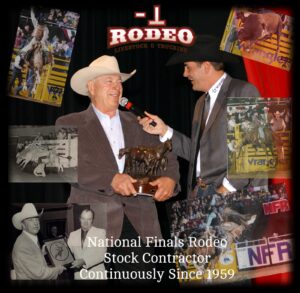 The very first National Finals Rodeo (NFR) was held in Texas, 1959.  The Bar T Rodeo Company was there, and seven decades later they continue to be selected.  They are among an elite class of stock contractors like Iowa based Barnes PRCA Rodeo Company and Colorado's Harry Vold Company.  
Today the Bar T Rodeo Company has been passed to the third generation and is owned by Jeff and Wendie Flitton, along with their son a fourth-generation family member Cody Flitton.
The top 15 contestants in the world, representing bareback riding, saddle bronc, and bull riding vote for the top stock each year.  The Bar T brand has adorned 628 animal athletes at the NFR and their string of superstars have bucked out 1,256 times.  World Championships have been won by cowboys drawing their rank stock throughout the rodeo season.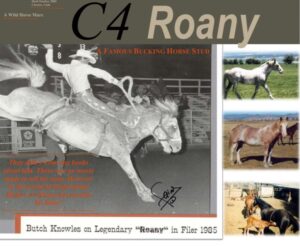 "Our lineage started with the C4 Roany, then his famous Son Red Robin.  Many other stock contractor's herds have improved from C4 Roany and Red Robin Lineage," stated Wendie Flitton.  
The Globe Life Field is home to the Texas Rangers MLB team. The 2020 Wrangler NFR arena is set on top of the baseball diamond.  The nine innings of baseball in the stadium looks different, with the bucking chutes along the second baseline.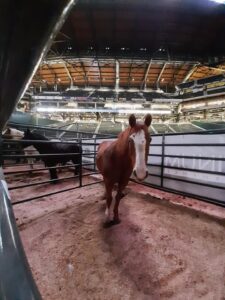 The nine rough stock athletes representing the Bar T brand in 2020 are: 
Saddle Bronc Horses
2020 3+10 Son of Sadie, 13th Trip to the NFR ( Mother 5 Time Sadie – Father 9 Time Red Robin)
2020 804 Pinto Pass
2020 P3Z Lady Vain, Voted in the Top 3 for Best Saddle Bronc in the PRCA 
2020 M6Z Hell Boy 4th Trip to the NFR
2020 M6A Vudu Doll
2020 P1B Jitter Bug
Bulls
2020 56 Angels Landing
2020 -51 Hammer Head
2020 147 Goofy 2nd trip to the NFR