The Pope finds heaven in Round 7 of Wrangler National Finals Rodeo
Great Lakes Circuit zip codes winning in Las Vegas                                                  
LAS VEGAS, Nevada (December 7, 2022) –  Bareback Rider Jess Pope won Round 7 with a score of 89 points. His bucking horse named Mayhem from Big Stone Rodeo Inc. didn't' do any damage to his winning streak.  Pope's WNFR winnings equal $121,718 after seven rounds.
The past two years Pope has won the WNFR average title.  He is sitting in excellent position to three-peat plus win his first world championship title in 2022.  "I'm just going to take it one horse at a time. I can't control anything other than what I do and if I show up and nod my head and know that I gave it my all every time after that I'm plum pleased with how everything ends," stated Pope after his third-round win.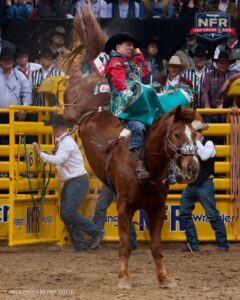 Fellow Great Lakes Circuit cowboy Tanner Aus from Granite Falls, Minn. was the bookend in Round 7 for sixth place winning $4,664.  The Minnesotan has won $47,568O after seven rounds.  Iowa cowboy, 3x World Champion Tim O'Connell cashed $32,879 to date in bareback riding.
Two steer wrestlers have zip codes in the Great Lakes Circuit.  J.D. Struxness from Milan, Minn. and Nick Guy from Sparta, Wis. The stats for these two cowboys are compiled below.  Steer Wrestling: First round: 1. Nick Guy, 3.8 seconds, $28,914; Third round: 5. J.D. Struxness, 4.3, $7,462; Sixth round: 3. (tie) Tanner Brunner and Nick Guy, 3.9, $14,690 each; 5. J.D. Struxness, 4.0, $7,462; Seventh round: 3. J.D. Struxness, 3.9, $17,255.
ProRodeo.com media asked Guy after his Round 1 win, "How did it feel? It was the first time in four years you return here in Las Vegas to the Thomas & Mack Center, and you come back here like you've been here your whole life."  Guy's reply, "Honestly, I've been looking forward to this run for a long time.  Missing it (the NFR) for a few years after you've made it quite a few times is hard pill to swallow.  To come back here, the first night, and take the opportunity and try to start the week hot is what my plan was.  I talked to a few people today and told them to be ready to go to the South Point (Casino).
Bull Rider Reid Oftedahl, who was sidelined for the remainder of the 2022 WNFR because of the injuries he sustained during Round 2 is from Raymond, Minn. Oftedahl, who was wearing a helmet, was admitted to the ICU at UMC Trauma Center on Dec. 2 with a head injury and neck injury. A GoFundMe site is setup for Oftedahl..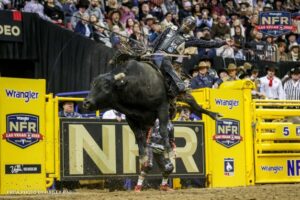 Photos courtesy of PRCA.