The Cinch Playoffs Governor's Cup Sept. 28-30 in Sioux Falls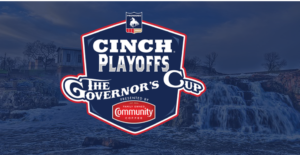 The Cinch Playoffs Governor's Cup presented by Community Coffee runs Sept. 28-30 at the Denny Sanford Premier Center. Greg McDonald and Rorey Lemmel connected in the production office to discuss the event and development.  Lemmel was quick to credit the vision of Sean Decker, President of REV Entertainment. Decker also serves as the Texas Rangers Executive Vice President, Sports and Entertainment.
At the Cinch Playoffs Governor's Cup, the rounds on Sept. 28-29 will pay $10,000 for first; $7,500 (second); $5,000 (third); $2,500 (fourth). The top four finishers from each event at the Playoffs in Puyallup, Wash., Sept. 7-10, and the top eight out of the standings of the Playoff Series presented by Pendleton Whisky advanced to Sioux Falls.
On Sept. 30, it will be a clean slate for the contestants with the top eight in the aggregate from rounds 1 and 2 competing. The top four times/scores advance to a final round and an even bigger payday. The final four round pays $25,000 to first; $19,000 (second); $12,000 (third); and $6,000 (fourth). For complete details follow at prorodeo.com