Silver Sage Pro Rodeo August11-12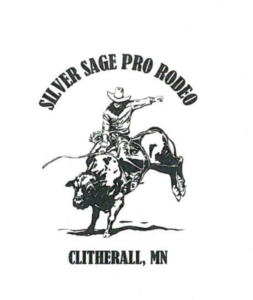 Silver Sage Pro Rodeo, fundraiser for Vining Fire Department
Camp with the cowboys in the heart of the lake country, Minn.
Omaha, Neb. (July 17, 2023) – The second annual Silver Sage Pro Rodeo kicks off Friday August 11 and Saturday August 12 near Clitherall, Minn. The rodeo is as a fundraiser for the volunteer Vining Fire Department that serves the rural portion of Otter Tail County.
Two nights of prorodeo action will attract top notch cowboys and cowgirls from the Professional Rodeo Cowboys Association (PRCA) and Women's Professional Rodeo Association (WPRA). Locals, tourists, snowbirds, cabin owners and diehard rodeo fans are all invited to purchase tickets online.  The rodeo grounds and primitive camping spots are located near the Silver Sage Guest Ranch entrance.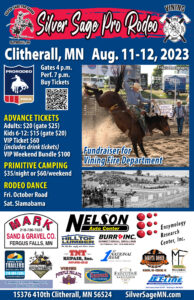 Ticket holders will enjoy a weekend of camping, rodeoing, socializing and western hospitality at the Silver Sage Pro Rodeo.  There are eight food vendors, a beer garden, western booth vendors plus axe throwing and a mechanical bull.  A nightly rodeo dance follows the performance with performances by October Road on Friday and Slamabama on Saturday.
Youth can register for mutton bustin ahead of time.  New in 2023 is the barn yard animal scramble for children to voluntarily participate in during the rodeo intermission.
The 2020 census records Clitherall's population at 62 residents.  However, Otter Tail County is known as lake country with over 1,000 lakes in the county limits that attracts thousands of tourists and cabin owners annually. Otter Tail County is the number one listing for most lakes in a county throughout the United States.
Tickets advance $20 adults (gate $25); kids 6-12 $15 (gate $20); VIP tickets $60 or $100 for the weekend (includes drink/bbq meal and access to VIP tent with contestants)
Primitive Camping $35 night/$60 weekend
Food Vendors:
-Rose City BBQ
-Dang that's good (hot dog stand)
-Baby's Bagels (burgers on bagels)
-Coffee 33 (coffee, smoothies, Italian sodas)
-Shriners (pulled pork sandwiches, burgers, brats, giant icee's)
-Dixie's Mini donuts (Heaven in a bag)
-Boy Scouts (burgers, brats, tacos, desserts, etc)
Merchandise Vendors:
-Bit of Tack (western clothing, tack, etc)
-UNO (western clothing, etc)
Entertainment Vendors
-Woodsmen Axe and Mechanical Bull