Ladies Night Out Tues. June 21 – Tickets on Sale, shopping, fashion show, whisky and wine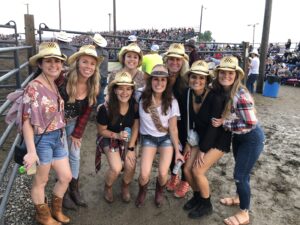 Omaha, Neb. May 8, 2022 – GM Western Enterprises and Kirchmann Media Group are producing a new event in Buffalo, Minn. during the annual rodeo that will feature Rodeo & Rhinestones, a Ladies Night Out, and five days of western shopping.
The western marketplace will be held in the Buffalo Civic Center Wed. June 22 through Sat. June 25, 2022.  The event is free and open to the public from 2 p.m. – 6 p.m. daily.  Boutiques and western businesses selling clothing, accessories, tooled leather goods, home furnishings, custom made jewelry and rodeo apparel are participating.
Rodeo & Rhinestones will showcase a Ladies Night Out on Tuesday June 21 from 5 p.m. – 7 p.m.  A limited number of advance tickets are available for $30. Rodeo & Rhinestones is an exclusive VIP event for all ages to attend.  The ticket includes admission for early shopping, cocktails, appetizers and a fashion show.  Sponsors include Pendleton Whisky, Smashberry and Butternut wines by the Miller Wine Family and Wrangler.
"We are thrilled to create this western expo for Buffalo.  Greg McDonald and I grew up attending the Buffalo Rodeo as children and have fond memories. It was an annual tradition for our families, during the 80s. I remember the bunting across downtown Buffalo.  In addition to the expo the Buffalo Rodeo Association is hosting a business window decorating contest to help recreate the town's enthusiasm for the rodeo," stated Gretchen Kirchmann.
Western boutiques from North Dakota, Montana, Iowa and Minnesota are bringing fashions and furnishings to Wright County.   Historical rodeo memorabilia of the Buffalo PRCA Championship Rodeo, Barnes PRCA Rodeo company and Minnesota High School Rodeo Association will be on display.  The community is welcome to donate memorable for the displays and share their memories.
"Gretchen and I ran into Tim DeLague at the legion in March. We hope he brings out Lester's chariot for display," shared McDonald.  "Mitzi's trick riding saddle might make an appearance too along with a Bob Barnes buckle."
McDonald is the executive director for the Buffalo PRCA Championship Rodeo and owner of GM Western Enterprises.  Kirchmann, a native of Elk River, owns Kirchmann Media Group and is a 13x Wrangler National Finals Rodeo journalist.  Both are alumni of the Minnesota High School Rodeo Association.  They produce events across the Great Plains.
The Buffalo PRCA Championship rodeo dates are Thurs. June 23 – Sat. June 25, 2022.  Gates opens at 5 p.m. and performance kicks off at 7 p.m.  Tickets are available at www.buffalorodeo.com.
###