Q&A with Chute Tunes "Wild & Western" Rodeo Music Productions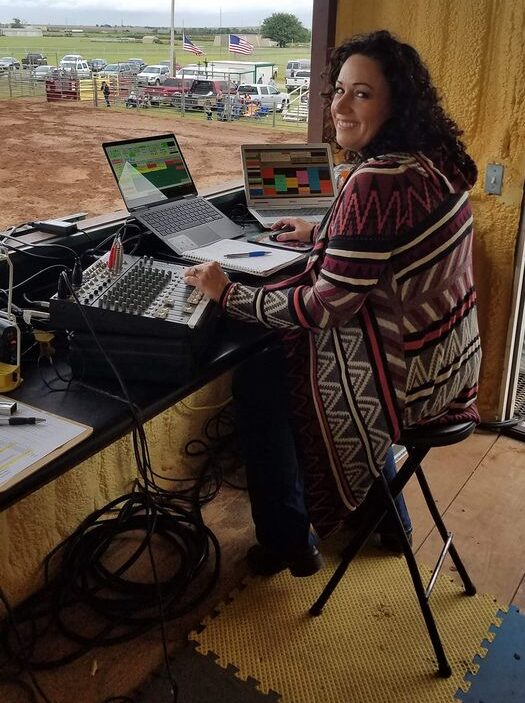 Nicky Kimm, co-owner and operator of Chute Tunes "Wild & Western" Rodeo Music Productions has a long history of involvement with the western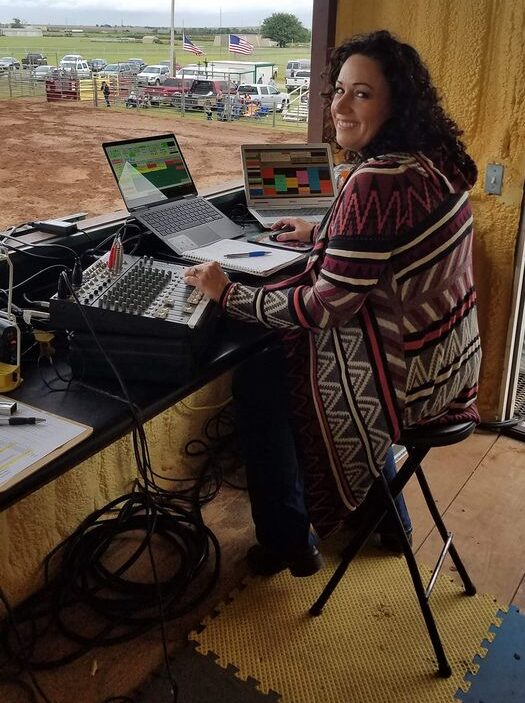 industry. Since 2012, Nicky and her husband Davie have worked the Buffalo PRCA Championship Rodeo.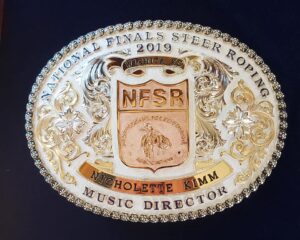 Nicky Kimm was selected as the Music Director for the 2019 Clem McSpadden National Finals Steer Roping. She received a coveted gold buckle with the signature National Finals Rodeo emblem.
Question and Answer with Gretchen Kirchmann below.
How did you get into the business?
When I was engaged to Davie (professional rodeo announcer), he asked if I would run music for him at a bull riding. I was terrified, because if I messed up, everyone would hear! I also was not very tech. savvy. This was in 2000, and the sports music software program was very limited, but Davie had it all set up. This was a Bob Barnes event too. It was a bit of a "tryout" to see if they liked Davie to hire for other events, which added to the excitement of working for an iconic rodeo company!
Do you have a favorite song that you like to work into the production regardless of what happens?
Not really. I truly enjoy multiple genres of music. My goal is to use sound clips to help the audience understand what is happening. I also have something for everyone to enjoy no matter what age or background. The hard part is organizing and remembering where I have my clips and play them in a timely manner.  Music is so powerful in entertainment! "Sound is 50% of movie experience"– George Lucas
You work weekends so what do your weekdays look like? Can you explore the rodeo towns?
This all depends on where we have to be and when.  For example, if the next event is several hundred miles away, and we are hired to set up the sound system, we won't have time to linger after. Davie and I live in our RV full-time (going on five years now!) and love it. When we had a house in Rosemount, MN., we had to rush home after an event to do the typical home maintenance chores.   We always look for ways to do business with the rodeo sponsors during our stay in their town. We also try to coordinate a visit with friends/family if time allows.
Do you have life hacks for living on the road? If so, can you share a few?
There are so many great resources online and apps! Our rig is pretty big, so Davie always has to look ahead and plan our route, and where we can stop. We have been lucky enough to winter in AZ., CA., and TX. most recently. Another tip is be aware of wildlife, snakes, and bugs! They vary a lot from MN. to SD. to TX.! We have gotten to know other full-time RVers, and this is probably our best resource for learning about those "hidden gems for site seeing and camping!
We have limited space, but still tend to accumulate stuff. Every so often we declutter, and really scrutinize what we need!
Anything else?
My music has quite a bit of humor for those hardcore rodeo fans and contestants, but also for the 1st time spectator. Last year I was challenged with a task to provide music for an event that did not want any rock, rap, or music about drinking, or anything unwholesome. It was tough, but I liked using different tunes.