Minnesotan, Reid Oftedahl qualifies for first WNFR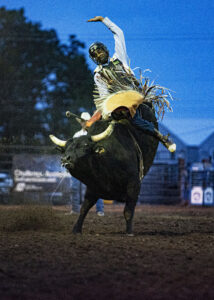 Buffalo's 2022 Champion Bull Rider qualifies for Las Vegas
Omaha, Neb. (October 26, 2022) – Reid Oftedahl from Raymond, Minn. is heading to his first Wrangler National Finals Rodeo (WNFR) in Las Vegas, Dec. 1-10, 2022.  This past June he earned the bull riding championship at the 68th Buffalo PRCA Championship Rodeo.  He won $3,062 riding Barnes' PRCA Rodeo bull, Boogieman, for 85.5 points.
Video of US Coast Guard Bullfighters Lucas Moore and Miles Jones protecting Oftedahl at the 2022 Buffalo PRCA Championship Rodeo.
The 28-year-old cowboy is literally making his first trip to the WNFR. While his family and friends have attended as spectators over the years, Oftedahl emphasized, he was waiting until he qualified.  Oftedahl is an elite group being only the fourth Minnesotan bull rider in history to compete at the WNFR since 1959.   Past WNFR qualifiers include his close friend and mentor Brett Stall (2012, 2015), brothers Charlie (1981) and Paul Wiederholt (1993).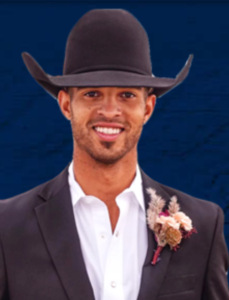 "This is where Reid is going to really shine. He can ride rank bulls, competes in loud atmospheres and will really excel in Vegas," stated Stall, "I've known him since he was in junior high rodeo, and I saw he had the potential to be at the next level."
The top 15 bull riders in the world qualify based on money earned, while hundreds of cowboys buy their card and enter rodeos annually.  The world standings ladder is constantly shifting until the season ends on September 30th.
"It hasn't set in yet," Oftedahl verbalized during a telephone interview about making the Super Bowl of ProRodeo. Oftedahl was busy harvesting and took a break near sundown to interview in mid-October.  He was grateful for his family being supportive of him rodeoing all these years especially his wife, Courtney, his mom, and in-laws and his Uncle Tony.
Oftedahl is quick to acknowledge growing up in Minnesota, being a bull rider is a different path compared to southern states. The rodeo season is cut short by winter weather, there are less rodeos and practice pens available for athletes.  "It is possible, it is tougher for kids in the north, but you can do it," he added.
The road to Las Vegas meant traveling, being away from family and entering the big shows.  Oftedahl made nearly $98,000 riding bulls this season in the Professional Rodeo Cowboys Association (PRCA).  He competed at signature ProRodeo events across the country and in Canada.  The PRCA is comprised of sanctioned rodeos and stand-alone rough stock series.  Big checks for Oftedahl came at the PRCA Xtreme Bulls during the Pendleton Roundup in Oregon.  He won the first round for $5,640, placed third in the second round for $2,713.
Oftedahl placed at iconic rodeos throughout the season including Cheyenne Frontier Days, Salinas, Calif., the Calgary Stampede plus Dodge City, Kansas.  When asked what it meant to complete and win at historical rodeos, Oftedahl said, "It was awesome, I was 90 points in Dodge City.  It was cool to be in Calgary, that was an experience just to be on that stage with everyone else."
In April, he flew into LAS on his way to the Logandale, Nevada rodeo.  This next flight to LAS is to accept his coveted WNFR back number and compete for 10 nights on the biggest ProRodeo stage at the Thomas & Mack arena.   Taking an 18-wheeler to Las Vegas will be Boogieman from the Barnes' PRCA Rodeo string. The bucking bull he rode in Buffalo, Minn. was selected for the WNFR and maybe there is a rematch in the future.
###
About the 2022 Minnesota WNFR Contestants: J.D. Struxness from Milan, Minn. enters the 2022 WNFR in third place for steer wrestlers with $123,648.61. This year marks his fourth qualification for the WNFR (2016-17, 2019 and 2022).  Tanner Aus from Granite Falls, Minn. is making his seventh trip to the WNFR in bareback riding (2015-17, 2019-22). Aus won the American Heroes PRCA Rodeo in Hawley, Minn. in 2016, 2015, 2014, 2009; won Buffalo PRCA Championship Rodeo in 2017.  Reid Oftedahl from Raymond, Minn. is making his first appearance in bull riding. In 2013 Oftedahl won the American Heroes PRCA Rodeo in Hawley, Minn. and filled his permit.
Past Minnesota qualifiers for the WNFR include Saddle Bronc Riders Tyler Corrington (2014, 2013, 2011) and Todd Hipsag (1997, 1998 and 2001); Bull Riding brothers Charlie (1981) and Paul Wiederholt (1993). Barrel Racer Jane Melby in 2011 and 2013.
About Buffalo PRCA Championship Rodeo:  Come experience Minnesota's oldest ProRodeo June 22-24, 2023. Since 1955, the Buffalo PRCA Championship Rodeo continues to provide quality family-friendly entertainment at an affordable price.  For more information www.buffalorodeo.com
About American Heroes PRCA Rodeo:  Located off highway 10 in Hawley, Minnesota just 30 minutes from Fargo, North Dakota. The 2023 rodeo dates are June 9-10.  The rodeo grounds are permanent with hillside seating in the small town of 1,200 residents.  For more information visit www.hawleyrodeo.com
About Barnes PRCA Rodeo: Established in 1950 Barnes PRCA Rodeo from Peterson, Iowa continues to be a premier livestock contracting company and member of the Professional Rodeo Cowboy Association.  The longevity of Barnes PRCA Rodeo is captured in the marketplace where community celebrations have been continuous partners dating back 40, 50 and 60 years. For more information visit www.barnesprcarodeo.com