Kinsel sets arena record, 16.92 seconds – Round 5 WNFR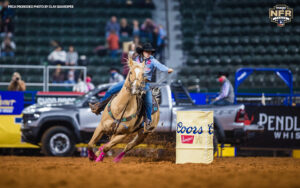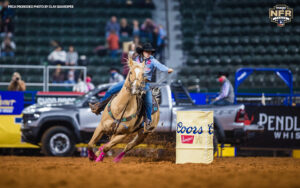 Three of five rounds for barrel racing are won by Hailey Kinsel from Cotulla, Texas. She is halfway through her 2020 WNFR, earning $109,423.08 to date.  During Round 5 she broke the 17-second mark clocking a 16.92 run.  Kinsel leads the Top Gun standings ahead of other contestants.  The RAM Top Gun Award goes to the one contestant who wins the most money in any single event at the Wrangler NFR. The 2020 award winner takes home a $25,000 voucher toward the purchase of a vehicle.
Kinsel is the reigning 2x World Champion Barrel Racer.  She won Iowa's Championship Rodeo in Sidney earlier this year.  In just five years she has won over $1 million dollars in career earnings.
"You don't ever really come into it thinking this is what you're going to do, being that it's such a tough field of girls, it being a bigger pattern and not knowing what the pattern is going to be like and if your horse is going to like it," Kinsel said. "After the first round, I had a feeling she was going to have fun out here pretty often. I'm just glad she's getting faster and faster and still relaxing."
Kinsel acknowledged her standout horse, Sister, keeps getting better at Globe Life Field.
"She's one that settles in and when she figures things out, she gets even grittier and grittier," Kinsel said. "When she came around the first barrel today, I tried to work on relaxing my hand a little bit more and letting her make the turn on her own instead of trying to control every step of it. When she came back around the second, I knew this one was going to be good."