Jess Pope repeats with WNFR Bareback Average Title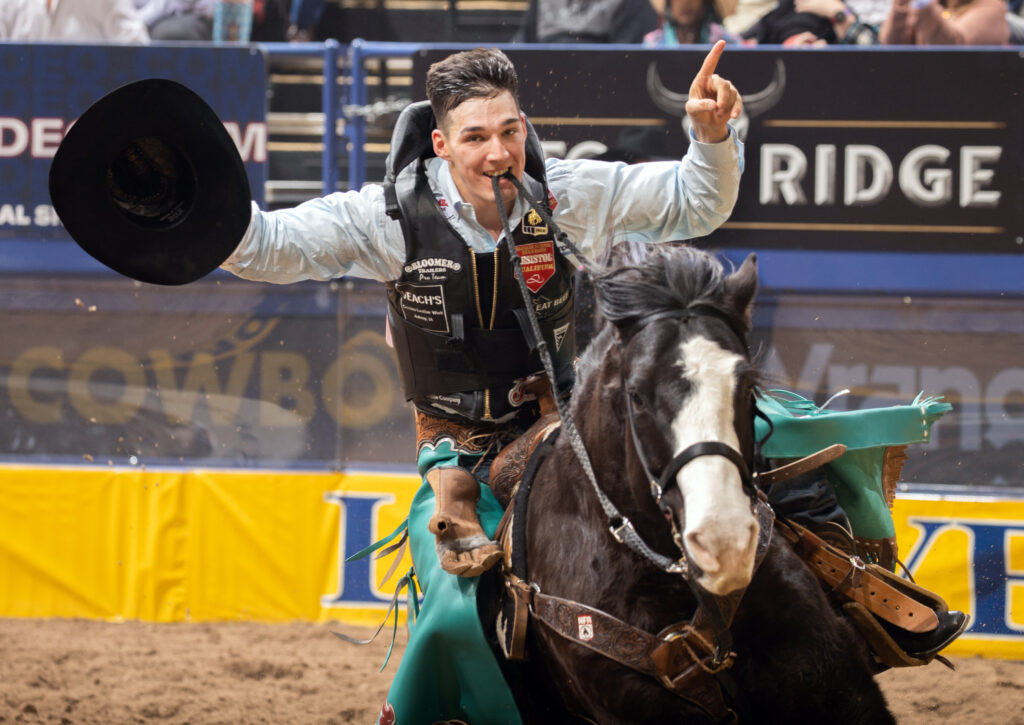 By Gretchen Kirchmann
Las Vegas, Nevada was a gold mine for Jess Pope in 2021.  He hit a jackpot by winning $230, 475; his second straight Wrangler National Finals Bareback Riding average title.  Pope, can be dubbed Mr. Consistent over the 10-day run with the most points on 10-head of horses.  The field of 15 bareback contestants included multiple world champions.  Leading the field was Kaycee Feild of Utah, winning his sixth Bareback World Championship in 2021.  Pope entered the finals in sixth place and left the Reserve World Champion.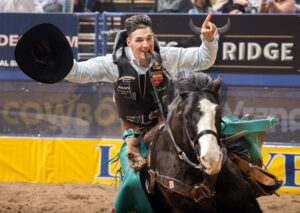 Pope who resides in Missouri, represented the Great Lakes Circuit in grand fashion.  He won four go-rounds, finished second in the world and second among the field of 118 contestants for most money won in Las Vegas.  The 23-year-old cowboy nearly doubled his season earnings in Las Vegas.
The Great Lakes Circuit finished with Pope winning the 2021 as the Reserve World Champion Bareback Rider with $340,499.  He scored 873 points in 10 rounds to win his average title.  Kaycee Field was second with 872.5 points on ten head.  Tanner Aus from Minnesota finished seventh with 824.5 and 12th place in the average was Tim O'Connell from Iowa with 753 on seven head.
Images and data supplied by ProRodeo.
Bareback World standings: 1. Kaycee Feild, $357,420; 2. Jess Pope, $340,499; 3. Cole Franks, $227,422; 4. Tilden Hooper, $205,916; 5. Garrett Shadbolt, $192,919; 6. Tim O'Connell, $192,908; 7. Cole Reiner, $190,187; 8. Richmond Champion, $188,739; 9. Caleb Bennett, $188,532; 10. Clayton Biglow, $187,637; 11. R.C. Landingham, $180,827; 12. Orin Larsen, $157,483; 13. Tanner Aus, $111,786; 14. Taylor Broussard, $82,381; 15. Zach Hibler, $75,381.