Back to Back Saddle Bronc round wins for Iowa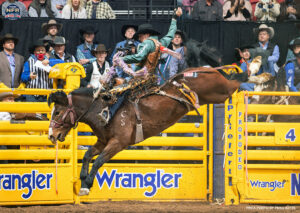 Las Vegas, Nevada. – Iowa cowboys took victory laps the first weekend in December on Saturday and Sunday in the Saddle Bronc Riding.  NFR Rookie Tegan Smith from Winterset and 2018 World Champion Wade Sundell from Boxholm claimed go-round wins on the first weekend of the Wrangler National Finals Rodeo (WNFR).  The WNFR ran from December 2-11 in Las Vegas.
Smith won the third go-round on Calgary Stampede's Yesterdays Delivery, setting a new arena record of 91-points.  "It's amazing. It's everything you dream of as a kid," stated Smith following ride.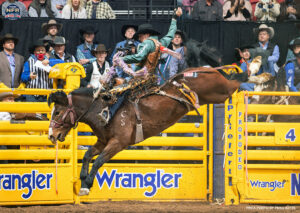 Click here for the Video interview here from the ProRodeo WNFR Media Room with Tegan Smith.
Only Nine out of 15 bronc riders made a qualified ride during the third performance. When asked how Smith did it? His reply was, "Well, that's the name of the game.  You have to make the whistle no matter how hard you fight.  You know in this pen it's going to be tough to ride so you really have to fight."
Sundell literally Bet the Ranch, the name of his bronc from Powder River Rodeo's string, to win the fourth go-round with 89.5 points.  This would be Sundell's only paycheck of the WNFR.  He was injured in the grand entry on Monday night during Round 5, when he was bucked off the saddle horse.
"I ended up having a fracture in my spine," said Sundell.  "Absolutely (it's heartbreaking), but it's just part of it.  Being around the sport things are going to happen like that.  He is expected to be sidelined for two to three months.
Details of the round matchups are below:
Round 10 – Smith on Miss Valley from Powder River Rodeo for 84.5 points; Sundell out with injury.
Round 9 – Smith on Larry Culpepper from Hi Lo ProRodeo for 85 points just a half point from placing sixth.  Sundell out with injury.
Round 8 – Smith on Tiger Warrior from Calgary Stampede was bucked off; Sundell out with injury.
Round 7 – Smith on Major Huckleberry from Big Bend Rodeo for 79.5 and Sundell out with injury
Round 6 – Smith just out of the money with 81.5 points on Bubble Bath of Burch Rodeo.  Sundell out with injury.
Round 5 – Smith bucked off All or Nothin from Andrews Rodeo and Sundell injured during the grand entry had drawn Billie from Hi Lo ProRodeo string.
Round 4 – Wade Sundell won on Bet the Ranch, Powder River Rodeo's horse for 89.5 points with $26,997 and Tegan Smith rode Kool Toddy of Big Bend Rodeo for fourth place with 87.5 points worth $11,321.
Round 3 – Smith won on Yesterdays Delivery of Calgary Stampede with 91 points and $26,997.
Round 2 – Smith bucked off Wall Street, Four Star Rodeo and Sundell bucked off Bad Onion of Championship Pro Rodeo.
Round 1 – Smith placed fifth on Lunatic Party of Outlawbuckers Rodeo for 84.5 points and $5,661; Sundell bucked off Sue City Sue, from Mo Betta Rodeo.
Images and data provided by ProRodeo.com