Three more weeks of Big Timber Weekly Pro Rodeo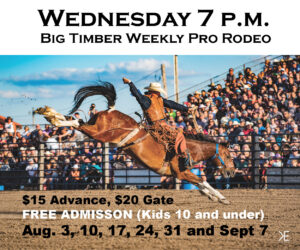 Big Timber, Mont. (Aug. 23, 2022) –   The Big Timber Weekly ProRodeo series continues with three more weeks of rodeo action on Wednesday night.  The final three rodeos in the series are August 24 and 31 along with the military appreciation performance on September 7, 2022.
"Our bareback horses and Mardi's sale barn bucking bull are having a fantastic year. We are also very pleased with our saddle broncs they are outstanding," stated John ES Smith, owner of JS ProRodeo Company with his wife, Mardi.
JS ProRodeo broncs on the watch list include Wild Eyes, Walking Boss, Silk & Dynamite, Open Market, Ryan's Hope, Coconut Queen and Wallstreet Jr.  The top ranked bulls are Cool Kruzer, Collateral Damage, Ghost Dancer and Savage Dancer.
The featured specialty act this week, August 24, is the wild burro race with six teams competing.  The fastest two-man team with a qualified ride on the burro wins.  To up the ante all six wild burros are released at once.  Rodeo fans have a photo opportunity for just five dollars they can sit on a tame braham bull.
The national anthem will be sung by special guest Linda Tolchard from England.  Tolchard is classically trained and performs as a soprano. She along with her husband are touring Montana by motorcycle.
The western town of Big Timber, Montana welcomes the PRCA series beginning Wednesday August 3, 2022 at 7 p.m., gates open at 5 p.m. The rodeo is produced by JS ProRodeo Company.
The Big Timber Weekly Pro Rodeo was voted the Small Rodeo of the Year in 2020 by the Montana Pro Rodeo Circuit. The rodeo is held at the Sweet Grass County Fairgrounds.  For more information www.jsrodeocompany.com
###
The JS ProRodeo Company will produce six consecutive rodeos in Big Timber, Montana from August 3 through September 7, 2022 sanctioned by the Professional Rodeo Cowboys Association (PRCA) and Women's Professional Rodeo Association (WPRA).
The award-winning Big Timber Weekly Pro Rodeo is action packed featuring top cowboys and cowgirls competing for prize money.  Voted by the Montana Circuit as the Small Rodeo of the Year in 2020.  Tickets are on sale now at www.jsrodeocompany.com