Sugar Ray Quinn selected for SDHS Rodeo Finals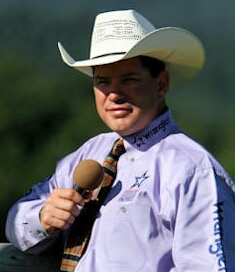 For many high school rodeo athletes, summer time means state finals time with an eye on making nationals. But when your 53 years old your first state finals might be a little different than the rest of the athletes competing. "I fought bulls at the South Dakota High School Finals for 12 straight years, retiring in 1998, and now I'm finally back at the South Dakota High School Finals, behind the microphone, announcing my first high school finals," says Sugar Ray Quinn.
For a dozen years he was a staple on the Wrangler Bullfight Tour as a member of the Professional Rodeo Cowboys Association (PRCA).  A broken neck in 1993 about sidelined a promising career, but with the grace of God and good luck Quinn continued his path in rodeo.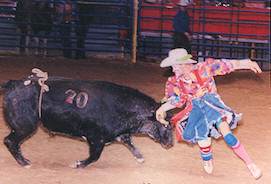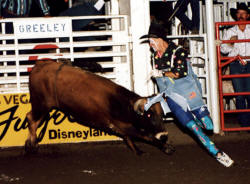 Image courtesy of www.sugarrayquinn.com
Quinn said, "I was selected for the Badlands Circuit Finals, the Montana Circuit Finals and the College National Finals my first two years in the PRCA and had the opportunity to work those rodeos a number of times, which to me is a great honor."
After retiring in 1998, Quinn turned to his second career, announcing. Armed with a Broadcast Journalism degree from South Dakota State University he literally hit the ground running. He says, "I thought I might have trouble getting people to believe in the talents I knew I had, to be able to carry a rodeo from start to finish in the booth but I was genuinely surprised when I started getting more events each year."
But rodeos weren't the only sport he announced. Of course he worked bull ridings, barrel racing events, Cowboy Mounted Shooting events to name a few. Anything to stay busy and perfect his style and gain more jobs to chase his second dream of announcing.
"I tell people all the time, I've had two great careers and been able to make money doing both of them. Chasing dreams seems to be the cowboy way and I wouldn't change anything I've ever chased or dreamed of doing because it made me the man I am," Quinn states. He continues, "I encourage kids to go while they are young and use those talents to get a college degree. Always have something to fall back on, because rodeo doesn't last forever."
It's been 22 years since Sugar Ray was a part of the South Dakota High School Rodeo Finals but you can bet there was one rookie excited to be back rodeoing. "With the Covid-19 situation, its been a tough time for a lot of people, me included, so to be back rodeoing is awesome…but to be back at SDHSRF is an honor and privilege."
To learn more about Sugar Ray Quinn click here.