ProRodeo Clown – Allan Dessel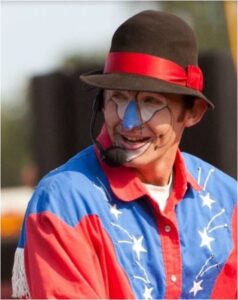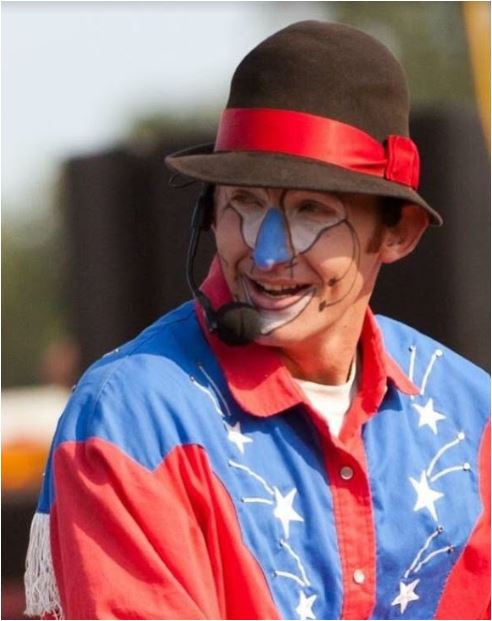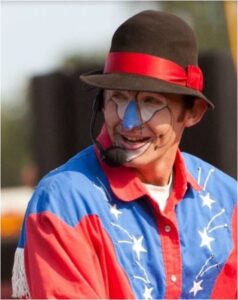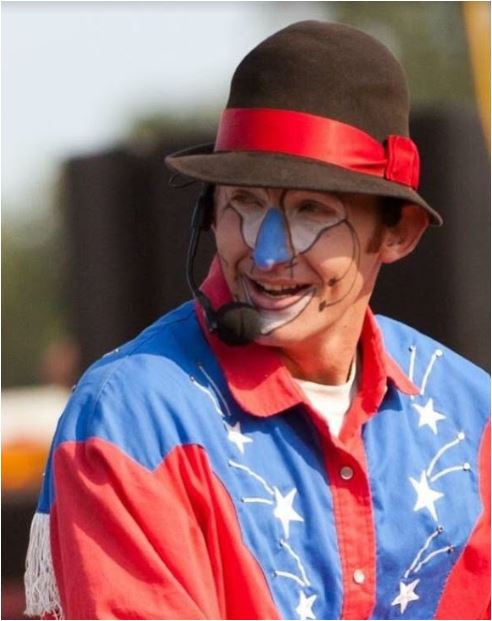 In his own words:
My name is Allan Dessel.  I grew up in rural Cherokee County in Iowa.  My family and I live six miles from the Barnes PRCA Rodeo ranch, so I have known the Barnes family my whole life.  I started helping the Barnes family at their rough stock schools when I was about 13.  The Barnes Ranch was actually the first place I ever fought a bull.
Ever since I can remember, all I wanted to do in life was fight bulls.  My dad was a professional bull fighter for 10 years before I was born.  I grew up listening to his stories and looking at pictures of him.  I was hooked.  He told me about fighting bulls.  He taught me the do's and dont's.  I started fighting bulls as a sophomore in high school at the age of 15.  That spring, I got my first job at a high school rodeo in Estherville, Iowa from the Barnes family.  From there I continued to make connections and worked on my bull fighting.  I was accepted into the PRCA (Professional Rodeo Cowboys Association) the summer after I graduated from high school.  I was 18 at the time, which is the youngest age eligible for acceptance into the PRCA.  I fought my first PRCA rodeo for the Barnes family one day after my 19th birthday in my hometown of Cherokee, Iowa.  In 2003 and 2004, I worked over 40 performances per year with the Barnes PRCA Rodeo Family in nine states, from Nebraska to New Jersey.  I ended my rookie year in the PRCA by working the Benny Binion Bucking Bull Sale at the NFR (National Finals Rodeo) in Las Vegas, Nevada.   Since 2003, I have been given the opportunity to work the Great Lakes Circuit Finals in Louisville, Kentucky, in 2004, 2006, and 2008.
During the Fall of 2006 I was urged to become a clown/barrleman by some of my fellow rodeo peers as well as a bullfighter.  So I began putting some ideas and acts together.  I traveled to Soper, Okla. during Christmas break from college in December 2006 and learned a lot about what it takes to be a good barrelman from PRCA barrelman and specialty act, John Harrison.  He taught me about timing, acts, and how to work with the announcer.  In January 2007,  I worked my first rodeo as a barrleman.  Since I had already made many connections fighting bulls, it was easier to work my way up to being a barrelman.  I spent the rest of 2007 and 2008 fighting bulls and working as a barrelman.  In the fall of 2008 I was approved for my PRCA clown/barrlman and specialty act card.  In 2010 I was chosen to work the Prairie Circuit Finals as a barrelman and in January of 2014 I was chosen to perform at the First Frontier Circuit Finals.
I also have a career outside of the rodeo arena.  In May 2007 I graduated from Buena Vista University in Storm Lake, Iowa with a Physics major and a minor in Math and Education.  After, graduation I took a year off before accepting a job teaching high school math and physics in Soper, Okla.
My wife Mandy, and I have three children. Gracie, Stran and Trig.