JS ProRodeo horses and bulls selected for NFR Open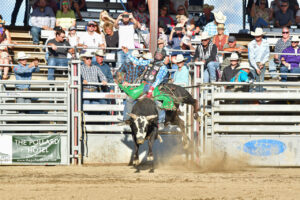 July 12, 2022 (Big Timber, Mont.) –  JS ProRodeo stock is heading to Colorado Springs, Colo., to compete in the inaugural NFR Open July 13 – 16, 2022.  The bucking horses C11 Silk &  Dynomite, V60 Walking Boss, X28 Wild Eyes, 541 Open Market and R4 Ryan's Hope will match up in the draw with top ProRodeo contestants.  The bulls representing the JS brand are 805 Collateral Damage and 7 Lucky.
JS ProRodeo Company is owned by John ES Smith and his wife Mardi.  The couple reside in Big Timber and provide stock to ProRodeos across the country along with producing the Big Timber Weekly Pro Rodeo series.  The Big Timber Weekly Pro Rodeo was voted the Small Rodeo of the Year in 2020 by the Montana Pro Rodeo Circuit. In 2022, each Wednesday Aug. 3 – Sept. 7 gates open at 5 p.m. at the Sweet Grass County Fairgrounds.
All the horses selected for the inaugural NFR Open are also Montana Pro Rodeo Circuit Finals selected. C11 Silk & Dynomite is a 4x Wrangler National Finals Rodeo (NFR) bronc.  She is a Ram Circuit Finals horse, and her credentials include being the "Bareback Horse of the Day in Calgary." C11 was raised by Tim Pankratz from Harlem, Mont.  The second mare is Walking Boss, V60, she was raised by John ES Smith.  The third mare, X28 Wild Eyes, is also a multiple time selected finals horse.  "She is very dynamic and exciting to watch," said Mardi Smith.
The Saddle Bronc pen includes 541 Open Market and R4 Ryan's Hope.  A Big Timber Weekly Pro Rodeo was won on Open Market in 2020.  "One of our most solid mares. Her mother Black Market went to the NFR four times," noted Mardi Smith.  Ryan's Hope is a gelding purchased from Ryan Maptson. Both horses are Montana Pro Rodeo Circuit Finals horses.
The JS ProRodeo bull Collateral Damage, 805, had a 100% buck off percentage in 2021.  On July 1, 2022, Josh Frost rode him for 86 points in Red Lodge, Mont to win the Xtreme bulls.  The second bull, 7 Lucky, has a 100% buck off the past four years.
###
The JS ProRodeo Company will produce six consecutive rodeos in Big Timber, Montana from August 3 through September 7, 2022 all sanctioned by the Professional Rodeo Cowboys Association (PRCA) and Women's Professional Rodeo Association (WPRA).
The award-winning Big Timber Weekly Pro Rodeo is action packed featuring top cowboys and cowgirls competing for prize money.  Voted by the Montana Circuit as the Small Rodeo of the Year in 2020.  Tickets are on sale now at www.jsrodeocompany.com