Bucking horse named after Hawley, Minnesota travels the country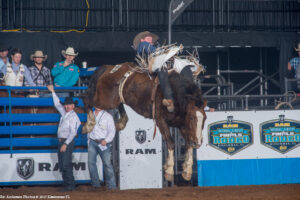 While the winter winds howl during February in Hawley, Minn. and residents shovel snow; the bucking horse named Hawley Falls is enjoying southern temperatures.  The past five years Hawley Falls has competed near Atlanta, Georgia.
Barnes PRCA Rodeo named a gelding Hawley Falls after Hawley, Minn.  Marty Barnes the stock contractor recalls naming the bucking horse.  "I sure think his first PRCA Rodeo was Hawley, Minn," commented Barnes.   The bucking horse makes several appearances across the country annually competing in rodeos.
In February Hawley Falls was ridden by cowboy Nate McFadden in Perry, Georgia for 81.5 points.
The bay gelding made a trip to Kissimmee, Florida in April. The Sunshine state is home to the RAM National Circuit Finals with the top contestant winning prize money and a brand-new RAM truck.  Contestants vote on the top stock to be selected each year.
Tanner Phillips drew the Rafter B Bar horse in Evansville, Ind. last May.  During the pandemic year Hawley Falls bucked in Stockton, Missouri in October.  The horse also threw off Colton Crawford in Palmyra, Missouri a week later.
Top cowboys have drawn Hawley Falls over the years.  The reigning Reserve Bareback Riding Champion Tilden Hooper scored 85.5 points in 2019 at the RAM National Circuit Finals.   Jesse Pope rodeo Hawley Falls for 84 points at the 2019 Buffalo PRCA Championship Rodeo in Buffalo, Minn.  Pope won the Wrangler National Finals Rodeo Bareback Riding average championship this year.  In 2017 Wyatt Bloom rodeo Hawley Falls for 82 points in Florida.
World Champion Tim O'Connell rode Hawley Falls for 86 points in Palestine, Ill. in 2017.  Hawley Falls has stats dating back to 2013 when Logan Corbett scored 81 points in Louisville, Kentucky.
Barnes PRCA Rodeo | News | Bucking horse named after Hawley, Minnesota travels the country