Rodeo & Rhinestones transforms Buffalo, Minn. ice arena into western market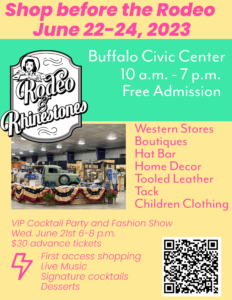 Buffalo, Minn. (May 27, 2023) – The 69th Buffalo PRCA Championship Rodeo in Buffalo, Minn. will feature Rodeo & Rhinestones for the second year.  The western marketplace is held in the Buffalo Civic Center Thursday June 22, Friday June 23 and Saturday June 24, 2023.  The event is free and open to the public from 10 a.m. – 7 p.m. daily.  Boutiques and western businesses selling clothing boots, hats, tooled leather goods, home furnishings, custom made jewelry and one-of-a-kind hide on hair purses are participating.  A new addition is a hat bar by Soul + Muse. Shoppers can buy a cowboy hat and use mini branding irons to customize.
Rodeo & Rhinestones will host a ticketed VIP Cocktail Party on Wed. June 21 from 6 p.m. – 8 p.m.  Advance tickets are $30 at www.buffalororodeo.com. The ticket includes admission for early shopping, cocktails, desserts, live music and a fashion show.  All ages are welcome to buy tickets with non-alcoholic beverages available too.
"We spend an entire year planning Rodeo & Rhinestones," stated Gretchen Kirchmann, founder.  "This is a juried selection of high-end western themed boutiques and western products. Last year we pleasantly surprised guests with the transformation of the ice arena into a western marketplace with vintage trucks on display.  We are thrilled to return with our vision of upscale rodeo fashions and historical booths spotlighting ProRodeo in Minnesota," she continued.
Boutiques from Iowa, Minnesota, Montana, Nebraska and Wisconsin are bringing fashions and furnishings to the ice arena. Historical rodeo memorabilia of the Buffalo PRCA Championship Rodeo, Barnes PRCA Rodeo company and Minnesota High School Rodeo Association will be on display.  The community is welcome to contribute Buffalo Rodeo history for the displays and share their memories.
"Our team is collaborating with Buffalo based businesses Bison Creek Event Center, Natural Roots Salon and Biggs & Co. to enhance the community celebration and kick-off Rodeo & Rhinestones," commented Kirchmann, " Amy, Heidi and Kelsie have all invested their enthusiasm and business expertise."
The DeLague and Barnes families are pillars of Minnesota's oldest ProRodeo dating back to 1955.   "Lester DeLague's chariot will be on display again thanks to his son, Tim," shared Greg McDonald, executive director of the Buffalo PRCA Championship Rodeo.  Mitzi Barnes's trick riding saddle will be a featured item. The hand sewn flag girl shirts designed by Donnita Barnes will be part of the fashion show on Wednesday night.
McDonald, a former bareback rider, owns GM Western Enterprises.  Kirchmann, a past Minnesota rodeo queen, and current consultant with KMG work jointly on this venture.  Both are alumni of the Minnesota High School Rodeo Association.  The duo produce several events throughout the year.
The Buffalo PRCA Championship rodeo dates are Thurs. June 22 – Sat. June 24, 2023.  Gates opens at 5 p.m. and rodeo begins at 7 p.m.  Tickets are available at www.buffalorodeo.com.
###