Cooper knocks it out of the park, in the 9th inning – Round 9 WNFR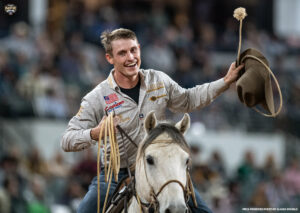 Tuf Cooper from Decatur, Texas tied his calf in 6.9 seconds to win Round 9.  Is there a significance with Round 9?  Maybe….he's wearing back number 9 for the 2020 Wrangler National Finals Rodeo (WNFR).  The four-time world champion added $26, 230.77 to his WNFR earnings tonight taking it to $67,961.54.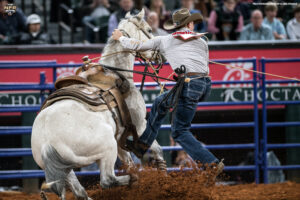 Barrel Racer Hailey Kinsel continued her 16-second patterns with a 16.81 run.  This is her fourth go-round win during the WNFR 2020.  She is leading the Top Gun standings with the most money won, $182,615.39.  A new RAM truck voucher for $25,000 is looking like it will accompany her third world championship.  She leads the average race by two seconds.
Cole Reiner, rides to 89 points on Calgary Stampede's Arbitrator Joe.  The Kaycee, Wyoming cowboy is making his first WNFR appearance.  ProRodeo asked him, what's it like to win two rounds in your NFR debut?  "My goal was to come here and win at least one round and after I won that one (Round 6) I figured why stop at one.  It's too much fun and excitement and a great feeling.  To be able to do it twice in one year is really special.  I just want to thank everyone who got me here and all the support."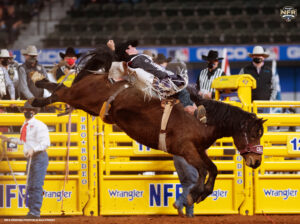 For more details on Round 9 visit www.prorodeo.com